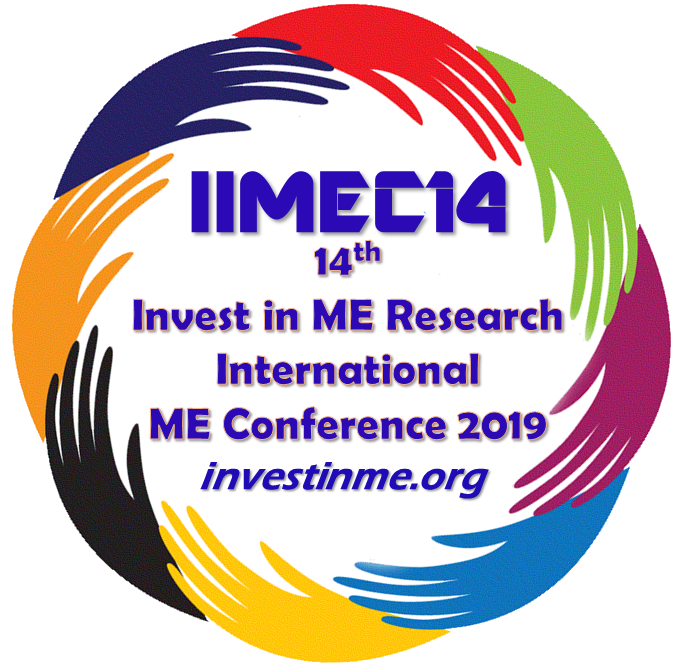 14th Invest in ME Research International ME Conference
The 14th Invest in ME Research International ME Conference 2019 - IIMEC14 - took place on 31st May 2019 in London and attracted delegates from twenty different countries - from Europe, North America and Australasia.
The conference day was preceded by the 9th Invest in ME Research International Biomedical Research into ME Colloquium - a two day closed researchers' meeting with almost 100 eminent researchers invited to attend from fourteen countries - and the full day Thinking the Future - Young/ECR Conference for young and early career investigators.
These three days prior to the IIMEC14 conference brought together researchers (both new to ME and experienced ME researchers) to collaborate and share knowledge for the benefit of future research into this disease by enhancing education and effectiveness of research efforts.
This year IiMER also celebrated its 13th year as a charity and reinforced the charity's efforts to increase international collaboration. The need for funding of biomedical research was underlined as the theme of ME Conference Week 2019 #InvestinMEresearch
Multiple international collaborations were formed via an incredibly positive atmosphere present during ME COnference Week 2019.
The IIMEC14 conference showed the major initiatives and research taking place to continue an international collaborative strategy for biomedical research into ME which Invest in ME Research has been championing over fourteen years.
The events organised by Invest in ME Research are based on a collaborative strategy of biomedical research into ME which we believe will progress this complex but exciting area of research and eventually lead to appropriate development of patient care and treatments for people with ME.
---
IIMEC14 Conference Agenda and Report

The Great Hall - One Great George Street
The Great Hall
On the first floor of this Westminster venue is the most impressive and largest function space within the building. The Great Hall a conference room of over 370 square meters and over 13 meters in height is adorned with marbled columned walls, ornate gold leaf and embellished plaster. An oak floor complements a stunning painted ceiling and two large crystal chandeliers at either end of the event room. There are seven floor-to-ceiling windows along the West wall letting in a lot of natural daylight and allowing for passers-by to gaze up and marvel at the magnificent ceiling and chandeliers.
The room was conceived as part of the building's initial plans in 1904. The Civil Engineers wanted to create a large hall similar to the grand meeting rooms found at the Inns of Court in the City and to be comparable to impressive rooms such as Lincoln's Inn. The painted ceiling and chandeliers were donated by a former president of the Institution of Civil Engineers as a reminder of the role the Institution and its members played during the First World War.
Many notable and historic special events take place in the Great Hall these include: the signing of the charter establishing UNESCO (United Nations Educational, Scientific and Cultural Organization) in 1945 and His Royal Highness the Duke of Edinburgh sat in the room to take his Royal Navy examinations. Feature films including, Bridget Jones: Edge of Reason in 2004 and Starter for 10 in 2006 filmed scenes within the four walls. More recently the Great Hall has been used as a communications room for international journalists when the venue housed the London Media Centre for the 2012 Olympic and Paralympic Games. By way of providing a unique backdrop during recent London fashion weeks the following fashion houses showcased their seasonal collections here; L'Wren Scott 2013, Alice Temperly 2012, and Antonio Berardi 2010.
Other Links
14th Invest in ME Research International ME Conference Presentations
---