The First Fellowship for Research into ME -
the
Invest in ME Research "Ian Gibson" Fellowship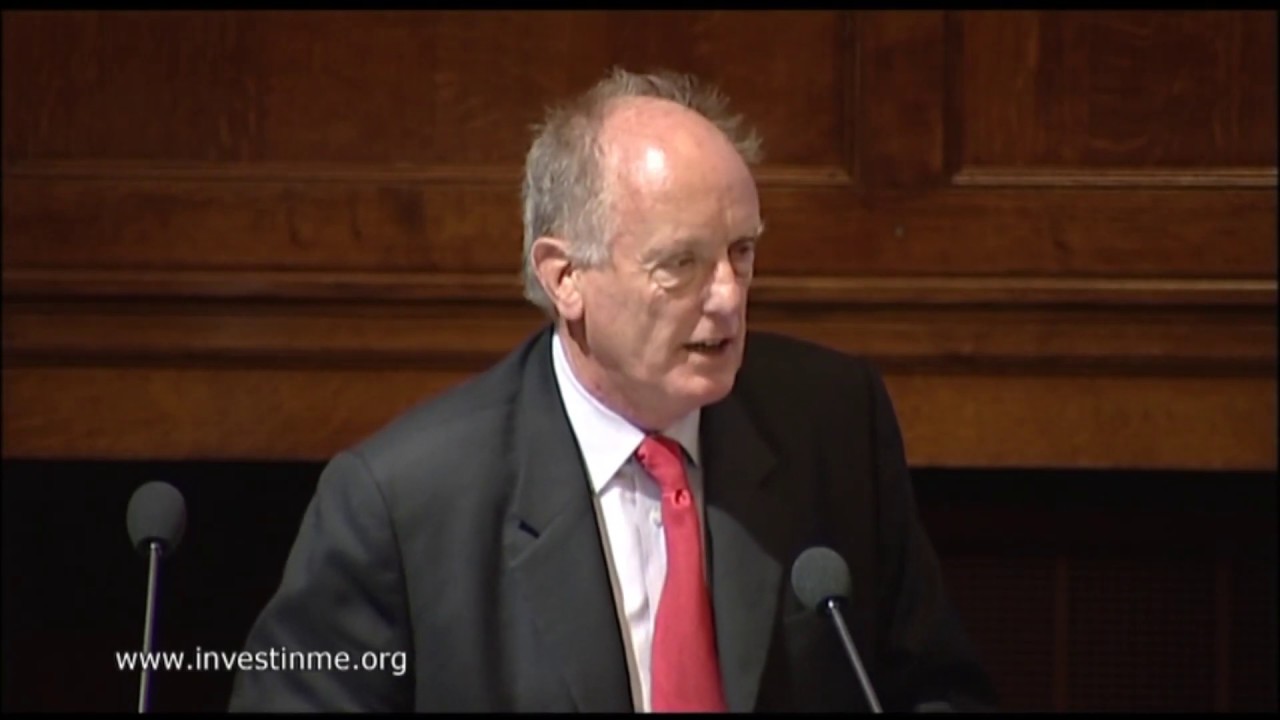 In 2022 the charity announced its commitment to funding the first Postdoctoral Fellowship for research into myalgic encephalomyelitis [1].
In partnership with Quadram Institute Bioscience this new position was created to continue and extend research into ME and builds on the foundations already in place for further developing the UK/European Centre of Excellence for ME research in Norwich Research Park.
In agreement with Dr Gibson's wife, Liz, and with Quadram Institute, the charity has decided to name this fellowship the
Invest in ME Research "Ian Gibson" Fellowship
- in memory of scientist, politician, advocate and good friend of people with ME, Dr Ian Gibson.
This first fellowship for ME recognises Dr Gibson's great influence in supporting people with ME and in helping the charity move ahead with facilitating the research programme and centre for research into ME.
Dr Gibson was a unique MP in that he understood the science and politics and was always interested in all kinds of views, and was consistently engaged in debates spanning diverse issues.
He was a steadfast advocate for the underdog, lending his voice to those often ignored.
This profound commitment to fairness and justice manifested not only in his advocacy but also in his resolute support for organisations that echoed his ethos. It is why he aligned himself with a volunteer-driven charity such as Invest in ME Research.
In recognising the intrinsic value of every effort, regardless of size or financial backing, he embodied the transformative power of standing alongside those tirelessly working for change, emphasising that true impact arises from the heart, not just the spotlight - something that perfectly describes our supporters.
Ian Gibson' Fellowship Detail
The fellowship is being performed by Dr Katharine Seton and continues her career in research into ME at Quadram Institute.
Recently, Dr Seton completed her PhD that was funded by Invest in ME Research and the University of East Anglia [2].
This is an important step in supporting the continuity of the research strategy for ME that has been well established and is being performed and planned at Quadram Institute and University of East Anglia.
Details of some of Dr Seton's planned research will include determining the contribution of the intestinal microbiome to oxidative stress in ME patients and whether this can cause alterations in immune function, accelerating premature immune ageing in patients.
She also plans to determine the impact of microbiota replacement therapy (MRT) on intestinal and systemic oxidative stress in ME patients.
This will be the first study to directly assess intestinal microbiome contribution to oxidative stress in ME patients.
Identifying the source of oxidative stress and its impact on immune cell function will enable the development of treatment options to break this cycle.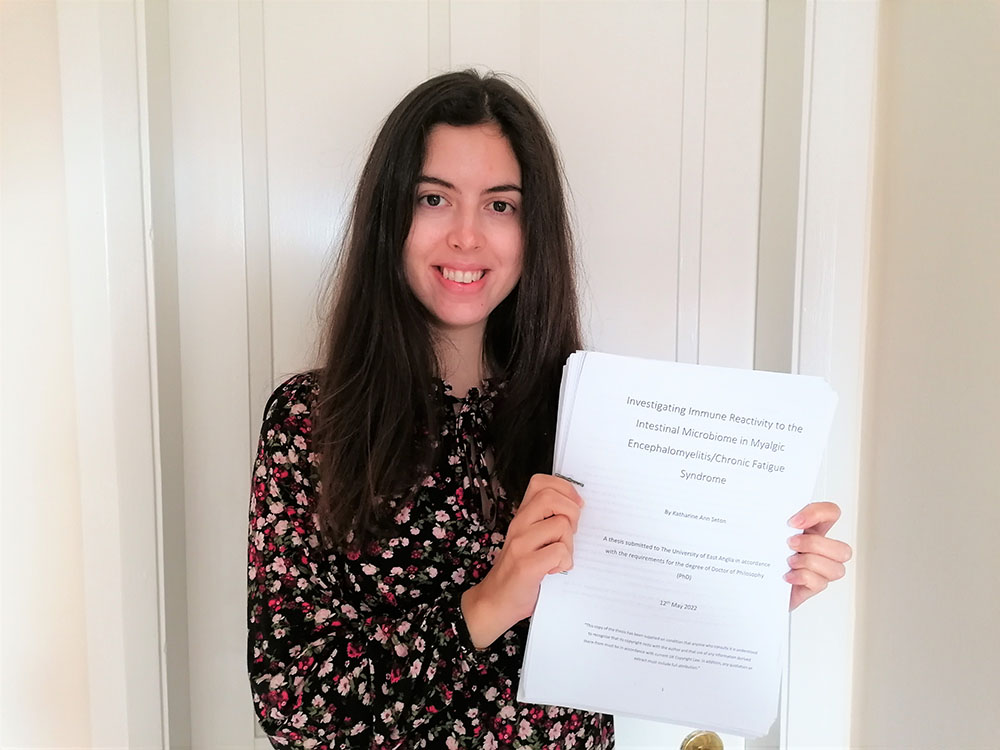 Augmenting the UK Centre of Excellence for ME
This is an important step in supporting the continuity of the research strategy for ME that has been well established and is being performed and planned at Quadram Institute and University of East Anglia.
Research into ME requires urgency and investment and it is necessary to maintain the base of research that has been developed over the years in Norwich Research Park.
The charity has now funded five PhDs and is currently fully funding an microbiota replacement therapy (MRT) clinical trial at Quadram Institute (the only clinical trial for ME currently in the UK, and one of just a few in the world for ME).
The new fellowship further enhances the opportunities at the centre, making it the pre-eminent location for funding research into this devastating disease.
The value of this UK/European centre of excellence for ME is clear and it is notable that this has been developed in partnership by patients and carers and a forward-looking research institute and university, with world-class researchers. The charity looks to continue funding the centre and facilitate the European/international collaboration within the European ME Research Group (EMERG).
Just some of the tributes to Ian Gibson from researchers
To all at IiMER - very sorry to learn of the death of Ian Gibson who was a fine champion for ME and especially IiMER - he is wisdom, energy and knowledge will be sorely missed.
Was so saddened to learn of Ian Gibson's passing. What a treasure of a human! I had the good fortune to spend extra time with him in Sweden and in his beloved Norwich. His graciousness was always a welcoming treat. And he would be delighted to know we are soldiering on for this important cause.
I was shocked and saddened to hear about Ian Gibson's death. Ian was an exceptionally articulate, passionate advocate for ME/CFS. I had several wonderful conversations with him at our London meetings. We once shared a dinner table. Ian was an inspiring speaker. He was the perfect MC to present the introductory talk for your conferences. I recall the last (pre-COVID) London conference I attended: it was 2019. I clearly remember Ian's unforgettable introductory talk: masterful, informative, hugely entertaining. I was delighted to locate a video of that talk on Opening to #IIMEC14 (Video). Spotting myself (in the audience) rekindled fond memories. By the way, it may have been at a previous conference (2017) that Ian, after his talk, handed me his "Science, Politics,.......and ME". He signed it ("…keep fighting…"), and then, as usual, he was immediately surrounded by a cluster of researchers, advocates, and patients who were eager to chat with him.
He will surely be missed.
I am so sorry and sad to hear about Ian Gibson. I am sorry for your great loss and know that you all must be very upset.
He was way too young. He was a wonderful person and a great advocate.
I am very sad to hear of Ian's death. A really special combination of deep compassion and humor. I'll never forget him quoting Lenin in front of a bunch of bigshot NIH and CDC officials in London. Sending love to his family and friends, especially you.
I clearly remmember that night I stepped into your meeting unexpectedly. Also, the many times we spent afterwards at pre-conference dinners, short conference breaks or other. They always felt somehow short. His comments in science were always sharp and funny. I must confess we also talked about soccer. I enourmously value every moment we shared. Ian's' closeness and warm friendship were from another world! His unique character and spark will for sure stay with us. Still I can´t help crying for his loss!!
Sorry to hear of Ian Gibson, he was a hell of a character.
Australian ME/CFS researchers remember Dr Ian Gibson
The ME/CFS team at Australia's National Centre for Neuroimmunology and Emerging Diseases (NCNED) expresses our immense sadness at the passing of Dr Ian Gibson. Ian has been a resolute friend and colleague to all of us in ME/CFS research. His sharp wit and ready conversation was always a booster for us arriving at conferences in London jet lagged and weary after long flights and lack of sleep. His incisive intellect was greatly admired by all, and possibly feared by some, but he brought the best of those attributes to the Invest in ME meetings. He would give critique on presentations without fear or favour, and he had the extraordinary ability to readily see the strengths and weaknesses of academic arguments. And he was unafraid to express his views, usually far-ranging. Ian always had a comment on the latest cricket match between the Aussies and the Poms, occasionally with a biased eye in favour of his home country, and he was always ready with a telling comment on the state of the umpiring, or the sloppy standard of batting. His perception, humour and robust commentary enriched our lives and we all remain in his debt. We shall miss him deeply.
Ross Humphreys (Chair, NCNED Steering Committee)
Don Staines and Sonya Marshall-Gradisnik (Co-Directors, NCNED)
I am heartbroken to hear this news. Ian was such a strong supporter of your cause and truly cared about individuals with ME. I will never forget the twinkle in his eye, and the honor of sitting next to him at your conferences and the opportunity to know and interact with such a wonderful person. I just learned today of the passing of another influential person from the other side of my job who was also a strong advocate for children with disabilities. The world is a better place for having these men in our lives and for their tireless work on behalf of others. My thoughts and prayers are with Ian's family – and with you because I know how much Ian meant to you.
What a loss! Ian Gibson played such an important role and he will be remembered warmly and with gratefulness. My condolences to his family and friends.